Fade Fast Tattoo Removal

Bring Your Skin Back To Life

Price
The price to remove a tattoo is based on both size and complexity of the piece. Most treatments range from $100-$250 a session. However, some treatments start as low as $80 a session. To receive a price quote, please fill out the form below.
---
Removal
The Science
The Art
The Process
The science of laser tattoo removal is actually fairly straightforward. A beam of collimated light delivers energy into the skin, which is absorbed by the ink, causing it to fracture into smaller particles that are then carried off by the your body's lymphatic system.
The art behind the process is a bit more complex. There are numerous factors to take into account including an understanding of tattoos, skin types, healing and of course the different types of lasers and pain management techniques.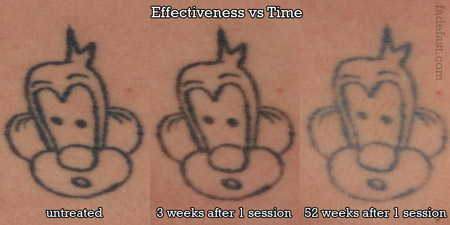 click image for larger photo
The process takes several treatments spaced six to eight weeks for best results. Yes, removal is a serious commitment, but the procedure is actually quite fast, with most treatments lasting less than five minutes.
Patience – We all want instant results but laser removal takes time and patience. Treatments are normally spaced 8 weeks apart. However, the longer you wait the better the results.
The Equipment
The laser used by Fade Fast is the Focus Medical NaturaLase QS 2J, which is the most powerful machine available. Not all are created equal and this holds true when it comes to lasers.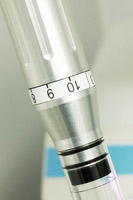 A Zimmer Cryo 5 is used to cool the treatment area during the procedure. This in conjunction with a pre-icing of the area can dramatically decrease the sensation to a level similar or below that of tattooing.